Celebrate the Great British Coastline with Lucy Young
Lucy is a British seascape artist based in Dorset, capturing beaches from all over the world from aerial perspective. Lucy's highly recognisable style blends distinct oceanic shades across the canvas with great subtlety and skill, and her play on light evokes a peaceful and idyllic perspective on coastal life with a strong sense of airy spaciousness.
She recently acquired our Douglas sofa to compliment her modern coastal interior of her family home. Here she shares with us her intuitive process in selecting the right sofa for her home.
"As an artist I always encourage my collectors to select paintings instinctively, choosing artworks which they are drawn to intuitively, which makes their hearts skip a beat.
Then when hanging the pieces in their own home it brings with it so much more than a piece of art, but a daily window to their hearts.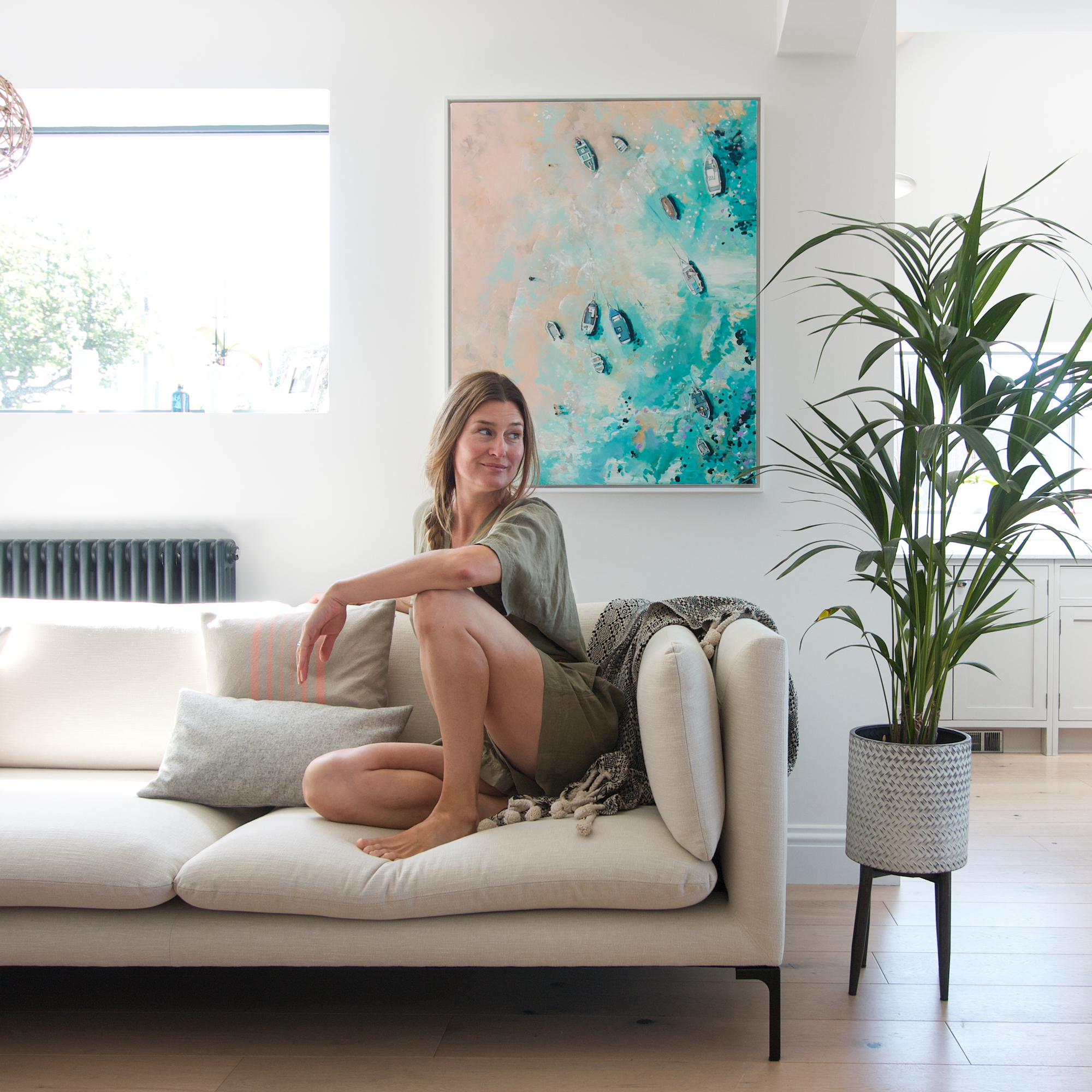 I always carry this ethos through into every part of my own interior. I select pieces which bring me great joy, and this way as I walk into my home I can't help but feel happy. This is what first drew me to the Douglas sofa. I instinctively knew this would create a fresh and contemporary feel, and compliment my paintings perfectly in our modern coastal home.
On further investigation I was delighted to find this was a British company that make sofas here in the UK, that not only look stylish, but also are exceptionally well made and so comfortable. I love the fact I can snuggle up with my two children and husband on the sofa and when we stand up it still looks pristine.
This is the kind of sofa you buy for life, and we all love it."
Lucy's career as a professional artist began only a few years after graduating when her contemporary take on seascapes became much sought after. In 2012 Lucy's talent was spotted by one of the UK's leading Fine Art distributors of original paintings. This aided her to quickly become an established name in the art world selling through high calibre galleries here in the UK and also internationally.
You can view Lucy's paintings in a number of very considered galleries across the UK. She has several collections a year which are exclusively offered to clients on her mailing list. If you would like to be part of this, simply sign up to Lucy's newsletter through her website. Lucy Young